Past Events
CORRECTION: 
Copyist Lecture at National Gallery March 4th: 
Original Attendees Will Have First Priority

The lecture was originally set for January but was postponed due to the government shutdown. The new date is Monday, March 4th. 

Members who signed up for the original date will have first priority to attend the event. Please email info.at.mspp@gmail if you would like to attend the lecture.


------------
The National Gallery is located between 3rd Street and 9th Street on Constitution Avenue, NW., Washington, DC. The event will begin  at 11:30 am with a lunch break in the National Gallery Cafeteria and end at 1:30 pm. Due to limited space in Gallery 51, reservations for this event is limited to 10 persons. Reservations will be accepted on a first-come-first-served basis. To reverse your seat, please RSVP with "Copyist Program" in the subject line and use the Maryland Society of Portrait Painters email address, info.at.mspp@gmail.com. Janet Ewing, MSPP Event Chair, will let you know if your reservation has been accepted.

Jim Sayler, National Gallery Copyist and MSPP Accredited Member, will give a demo and informal talk about the National Gallery of Art Copyist Program. The talk and demo will take place in Gallery 51 at the National Gallery, West Building, where Jim is painting a copy of Rembrandt's painting, Gentleman in a Tall Hat.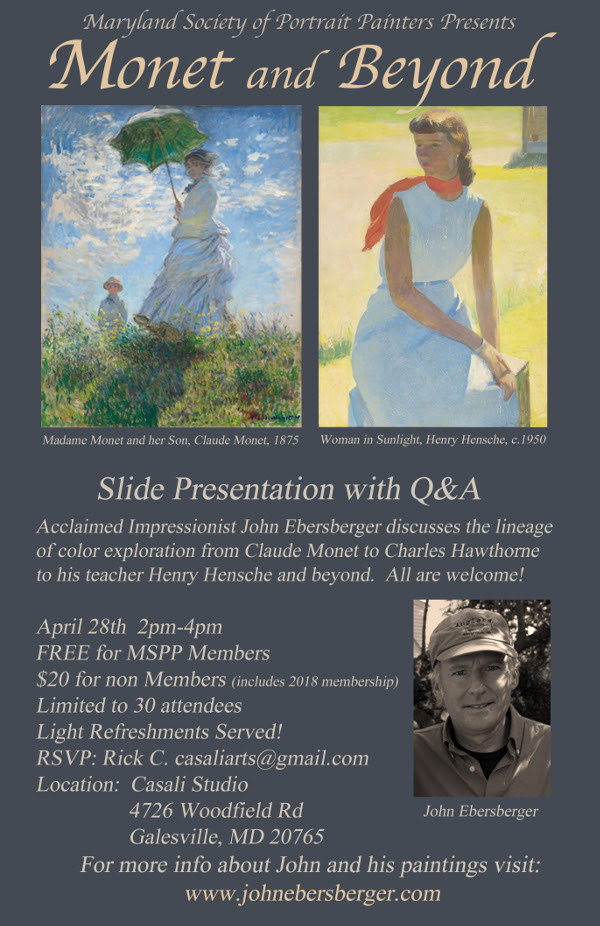 R I C K Y M U J I C A - One Day Painting Workshop


Monday, February 12, 2018
Portrait Painting, 9:30am-3:30pm
Galesville, Maryland
Tuition: $145 (+ model fee TBA)
Register and pay on our Join page.
Space is limited.
Check out Ricky's website for information about his work:
www.rickymujica.com
------------------------
Perception: The Artist's View will be on display at the Columbia Art Center, 6100 Foreland Garth, Columbia, MD 21045, in the main and window galleries.

The show will be up from February 8 to March 4, with a reception on Sunday, February 11 from 2 to 4pm.
--------
BUS TRIP to NYC - January 20, 2018
The Metropolitan Museum of Art
Language of a Genius—Michelangelo: Divine Draftsman and Designer with Author Carmen C. Bambach
Go to our Join Page and Register before January 7, 2018 at 11:00pm when it will be opened to the general public.
The bus will be departing at 7:30am from Annapolis at Maryland Hall for the Creative Arts, and departing for Annapolis at about 6pm from the MET.
------------------------
C A L L F O R A R T - This Exhibit is now CLOSED.

Perception: The Artist's View
ALL MEMBER JURIED EXHIBIT
February 8 – March 4, 2018
The Columbia Art Center
6100 Foreland Garth, Columbia, MD 21045
SUBMISSION DEADLINE: December 18, 2017
DOWNLOAD Prospectus here.
Go to Join page to pay Submission Fee.
-----------------------------------------

A N N U A L M E E T I N G &
Demonstration by Ricky Mujica
November 12th, Sunday, 2017

There was a great turnout for our annual meeting featuring a portrait demonstration by Ricky Mujica!
For more information about Ricky Mujica and to see his work visit: rickymujica.com

----------------------------------
Face-to-Face: The Evolving Story of Sandy Spring, was on display from October 4-November 18, 2017 at Sandy Spring Museum, Sandy Spring, Maryland.