Classes
Get Your News Online
Send your news to info@mdspp.com with News in subject line.
All Member News must be figure or portrait related. Include images. Max 500KB
Classes and Workshops

Rick Casali, Studio Classes
Melissa Gryder, Maryland Hall for the Creative Arts
Palden Hamilton, Zoll Studio of FIne Art
Hai Ou Hou, Chesapeake FIne Art Studio
David Lawton, Maryland Hall for the Creative Arts, AACC Con't Ed
Abigail McBride, AACC Credit, Studio Classes
Lisa Mitchell, Zoll Studio of FIne Art
Marjorie Perrin, Virginia Museum of Fine Arts
Nicole Troup, Nicole Troup's Masterpiece Studio
Andrée Tullier, Maryland Hall for the Creative Arts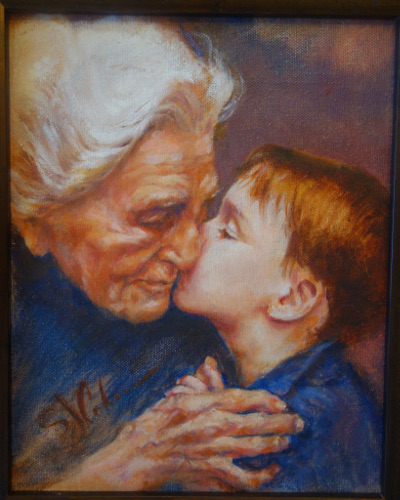 Kiss, 8x10, oil
MEMBER PROFILE: Sandy Cohen
As a child, Sandy showed artistic aptitude, but she didn't go to art school, and didn't focus on art until late in life. She enjoyed her family and a varied legal career, and projects such as farming blueberries, teaching law, leading a civic organization, and running a federal shoreline project at a dynamic site on the Chesapeake Bay. Eventually, after retiring as an Asst. Attorney General of Maryland and teaching at University of Maryland law school, one Thanksgiving with her irresistible grandchildren, Sandy wondered if she might capture them in portraits.  So she began, cold, to paint portraits.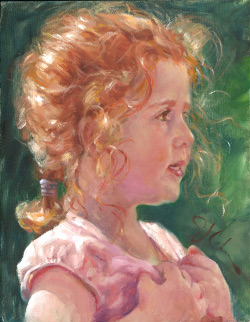 Sandy had learned to handle oil paints in her teens in the home studio of a family friend.  Half a century later, as she began to paint, she limbered up in figure and portrait studio co-ops at Maryland Hall, which she would later manage, as she still does.  A friend mentioned to her the master artist, Rob Liberace.  Sandy liked what she saw and heard about this generous teacher, and enrolled in a workshop with him at the Art League in Virginia.  When Rob Liberace stopped at her easel for the first time, Sandy asked a question, explaining that she had not been painting much for decades.  Momentarily silent, Rob pointed at her work on the easel and said:  "You can't not paint!"  Thus encouraged, she has continued.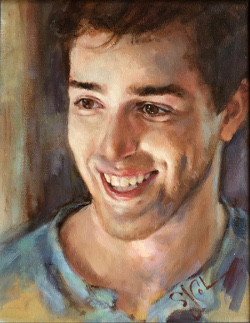 Early on, Sandy's work was routinely selected into juried regional and national exhibits, she was chosen as an artist in residence at Maryland Hall, and won numerous awards, including being honored by the prestigious Portrait Society of America.  She has exhibited at BWI International airport thru the Maryland Arts Council, in an extensive exhibit of drawings in Cambridge, and frequently in exhibits at the Maryland Federation of Art and Michael Busch Maryland Hall for the Creative Arts.  She has shown with MSPP at venues including Quiet Waters Park and Annapolis City Hall.  Sandy was selected as one of ten artists to participate in the painted violins project to benefit the Annapolis Symphony Academy.  She has had solo shows in the Martino Gallery at Maryland Hall, and at the Maryland Federation of Art, where portraits by Sandy were individually selected by three independent judges as their sole choice for award from among all works of art exhibited during the MFA's 50th anniversary year.