A N N U A L M E E T I N G &
Demonstration by Ricky Mujica

November 12th, Sunday, 2017, 1-4:30pm
Humanities Building, Room 112
Anne Arundel Community College
101 College Parkway, Arnold MD 21012
We are pleased to announce that Ricky Mujica will be painting a live model for the demonstration part of our annual meeting. There will be a brief meeting followed by the painting demonstration.
For more information about Ricky Mujica and to see his work visit: rickymujica.com
To register for the demo go to our Join page.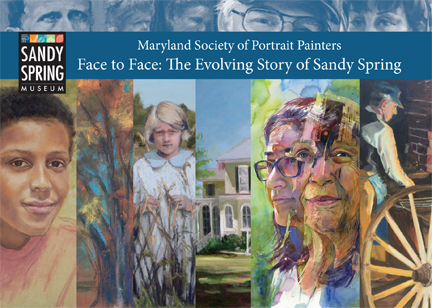 Face-to-Face: The Evolving Story of Sandy Spring, our current exhibit, is on display from October 4-November 18, 2017 at Sandy Spring Museum, Sandy Spring, Maryland.
The pulbic is invite to the reception on Saturday, October 7 from 12pm-2pm and is located at 17901 Bentley Road, Sandy Spring, Maryland.
Museum hours: Wed-Sat, 10am-5pm

Welcome
Maryland Society of Portrait Painters is a non-profit organization founded in 1982 for the purpose of promoting and encouraging the development of portraiture. Membership is open to individuals and organizations interested in the art of portraiture or active in creating portraits in painting, drawing and sculpture.
Board
David Lawton, President
Rick Casali, Vice President, Events Chair
Nancy McCarra, Treasurer/Secretary
Andrée Tullier, Exhibition Chair
Melissa Gryder, Membership/Accreditation Chair
Nina Ellsworth, Newsletter Chair
Sarah Wardell, Webmaster
Janet Ewing, Marketing Chair
Diane Monday
Oil Portrait